Faux Sure. I know with the weather getting cooler, I am dreaming of warm coats and my most coveted selection this season is this Faux-Fur Leopard, yet Classic coat from J.Crew. Wouldn't it look smashing dressed up or my personal preference dressed down with T-shirt and Jeans. Of course their would be Ladies that Lunch chunky jewels involved as well as blue-red lipstick (duh) and maybe just maybe a spritz of my all-time favorite oriental fragrance. *You get cool points if you can guess. Wink. Wink. Now in honor of my new season favorite, I couldn't resist a little walk down inspiration memory lane too. Enjoy!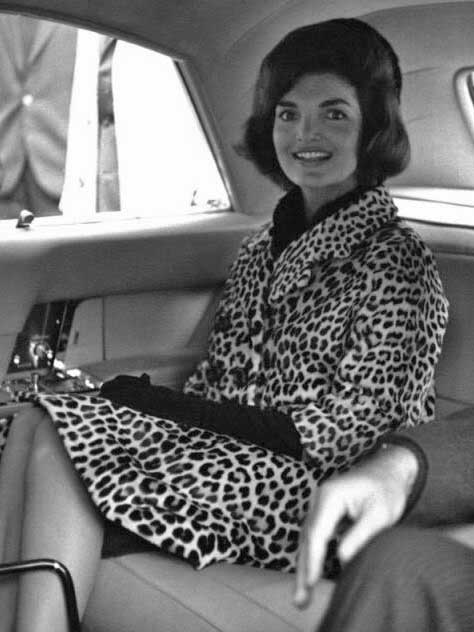 Mrs. Kennedy loved her Leopard coat very much and she wore it quite frequently during the Camelot years. It was designed by Oleg Cassini and unfortunately was make of real Leopard pelts. This trend almost completely devastated the Leopard population and soon after Cassini went to great lengths in rectifying the situation with a creating a synthetic version.
Princess Grace of Monaco's version was equally stunning and just adore the simple matching headband. So, did the Gentleman admirers in the background it seems as well.
Queen Elizabeth even jumped on the wild side with adding a fur collar and matching wrist-lets to her Leopard coat. Even her ankle boots are on trend now. But, I think I am also really taken with the Gentlemen in their Bowler Hats accompanying her and the Queen Mother. BTW: If you are into Netflix's original series The Crown, the Second season is being released December 8th! Can't wait and here is the trailer if you have not seen it yet!
Of course La La Liz Taylor couldn't be outdone! Tres Chic Madam with her matching pumps and stunning head scarf. I am sure Richard Burton approved!
Ah, then of course Sweet Audrey in her lovely Leopard hat with that pop of rouge! It must be Givenchy.
So, now what are you thoughts on leopard? And your favorite trends this November? loved to hear.
Love, C.